Watch the Full Film Watch the Full Film with Captions


"I have organized a number of forums here at the Concord Museum and in my two decades at the Kennedy Library—but none have been more satisfying and touching than the screening of Exile and Community and the ensuing discussion. I hope the film gets the wide viewership it deserves, especially among students since the scenes that are so poignant are those of Carola as a young girl in Germany and then the manner in which she was welcomed home by students at the school she once attended."
—Tom Putman, Edward W. Kane Executive Director, Concord Museum, Concord, MA
About the Film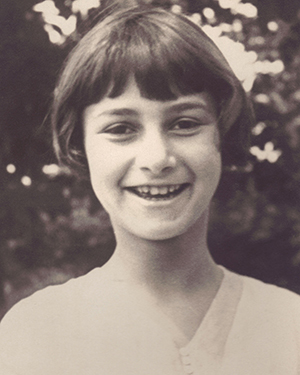 Carola Domar was a high-spirited, resourceful individual with generous instincts, caught in a tumultuous time. As a young Jew in Nazi Germany, Carola yearned for social acceptance and for the German identity she once took for granted. She escaped in her teens and came to the U.S. on her own. Carola spent much of her life searching for a specific kind of community––one connected to nature and guided by modernist ideals––and ultimately found it in Concord, MA, a New England town outside Boston. Carola's experience is all the more remarkable because her spirit of forgiveness ultimately helped her to come to terms with her past and reconnect with her former homeland.
Her story of exile and community has particular relevance in the context of current mass migration and anti-semitism. This film is conceived as an educational tool, primarily for young people, who will relate to Carola's account of what it was like to be a teen in Nazi Germany. The hope is to provide a heightened awareness of both the Holocaust and the power of reconciliation.
Carola's experience is presented as two interwoven narratives drawn from a 1998 USC Shoah Foundation Institute interview of Carola Domar, and a more recent interview undertaken by this filmmaker of her daughter, Alice Domar. This perspective on a well-known era underscores Carola's youthful view of events, particularly since this story is set in the familiar world of school and sports, and speaks to the fears of social exclusion most teens experience.
This film is more than a Holocaust story. Carola Domar went on to live a joyful life, with deliberation and grace, in an idealistic community she helped forge. And her compassion extended beyond her immediate sphere. She also embraced the place and people that had once ostracized her, reconciling with perpetrators of the Holocaust through the organization One by One and giving talks in Germany. In a final gesture, Carola returned to the Frankfurt school where she had flourished as a leader and athlete before she was expelled for being Jewish. During this visit, the school honored her at a ceremony of forgiveness and remembrance.
A nonprofit project, funded by the Concord Cultural Council and Mass Humanities with additional support from individual contributors, and from t​he following Concord, MA organizations: the ​​Concord-Carlisle Human Rights Council, Concord-Carlisle Television, Kerem Shalom, and the Women's Parish Association of First Parish. The project is endorsed by Facing History and Ourselves and the Concord Museum, Concord, MA, and sponsored by the Center for Independent Documentary. Completed May 2016.
Run time: 60 minutes